So after 9 years of marriage, dh has finally agreed to go to one of those fancy balls the military likes to throw. Of course, it might be more that his office has pretty much mandated everyone go.
I figured I'd make my dress. I had planned on using a purple taffeta that I have collecting dust in my stash. I also figured I'd splurge on shoes since I was making the dress. Well my shoe shopping expedition lead to these: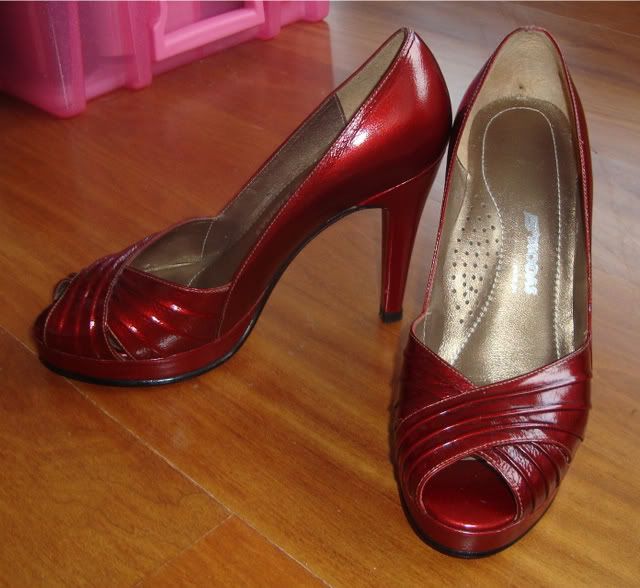 I couldn't resist them. No- they didn't have my size in black. Plus they were not as dramatic.
Okay, so on to the dress. I now needed a dress to match my red shoes out of my stash. Unfortunately the only thing I had with enough yardage was green silk. Yeah, NO. So I remembered that I still had the bridesmaid dress I wore to my bf's wedding almost 6 years ago, also collecting dust.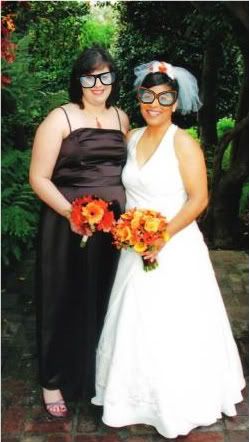 That dress was a size 22/24ish since I was almost 7 months pregnant with whirlwind #1 at the wedding. There was more than enough fabric with a bit of creative cutting for the dress I had been envisioning. I found a beautiful red silk to use with the brown.
Now I know I'm a few years behind the times but I really wanted an off-the-shoulder dress. I had planned on a super simple off-the-shoulder with a straight bottom and a slit. There was a pattern I could have purchased that would have worked but I decided to give my Wild Ginger Software a twirl.
When I got it almost 2 years ago I had done a sloper but didn't get very far after finding out I was pregnant with my second whirlwind. It was sort of fun finding out that my measurements are almost exactly the same- my hips were actually an inch smaller now! So I didn't bother with a new sloper, for now.
On to the dress:
the shoulder is just pinned for now. I need to go back and iron those seams better, I swear they are not as wiggly in person. I took special care to make sure the front was all on grain too. Uhm...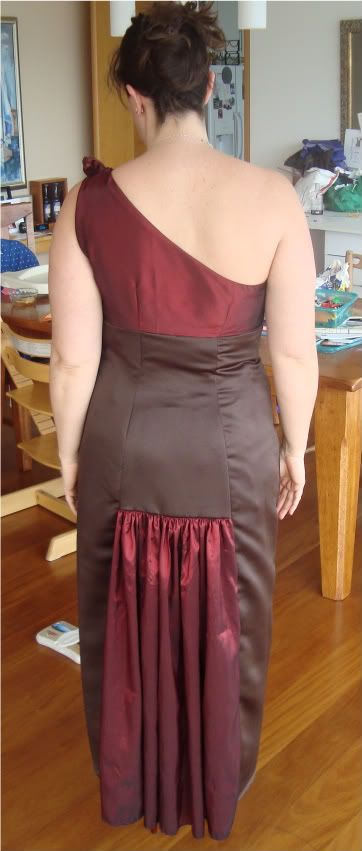 I'm planning on inserting boning to hold up the down side- I'm thinking thats what is causing the side bunching. But I love this view! See the seams aren't wonky.
And a semi-side view.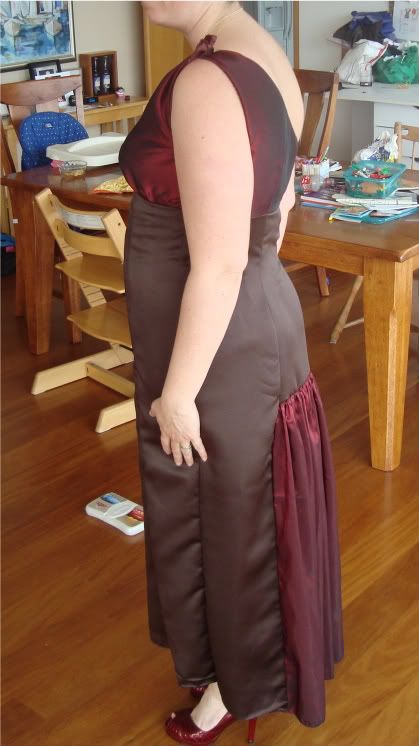 What do you think?