Yep, looks like our family is actually expanding- well I am anyway!
So these are my first efforts, both from Ottobre for Women 2/2007.
The white top is definitely for the third trimester- I just don't fill it out yet. Of course if I had read the description I would have seen that the model was 36 weeks. But then, to me she looked cute with this little bitty belly. Somehow I don't think I'll be looking like that at 36 weeks.
I had a little trouble with the cross-over but I'm thinking that it will resolve itself when the belly grows.
I used some plush FOE for the neck and sleeve bindings. I really was so happy with how it turned out, I have never done this good a job!
And unfortunately this is the best pic of the pants I got. They are a dark blue linen so I don't think they photograph well anyway. I did them totally plain, no pockets, no frills. I had to make some minor modifications but they fit well. I also made another pair in a khaki stretch twill that I'll post when I get pictures taken.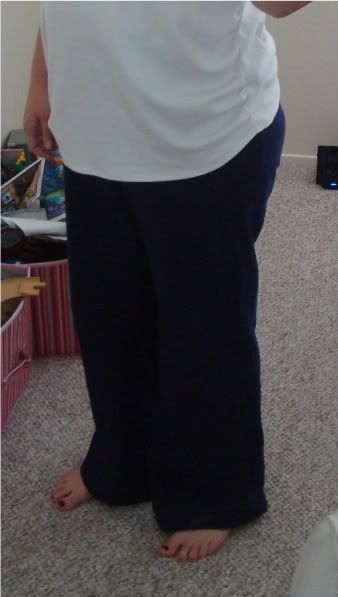 I have 2 more shirts from the 3/2008 issue cut out so I'll post those when they're done.