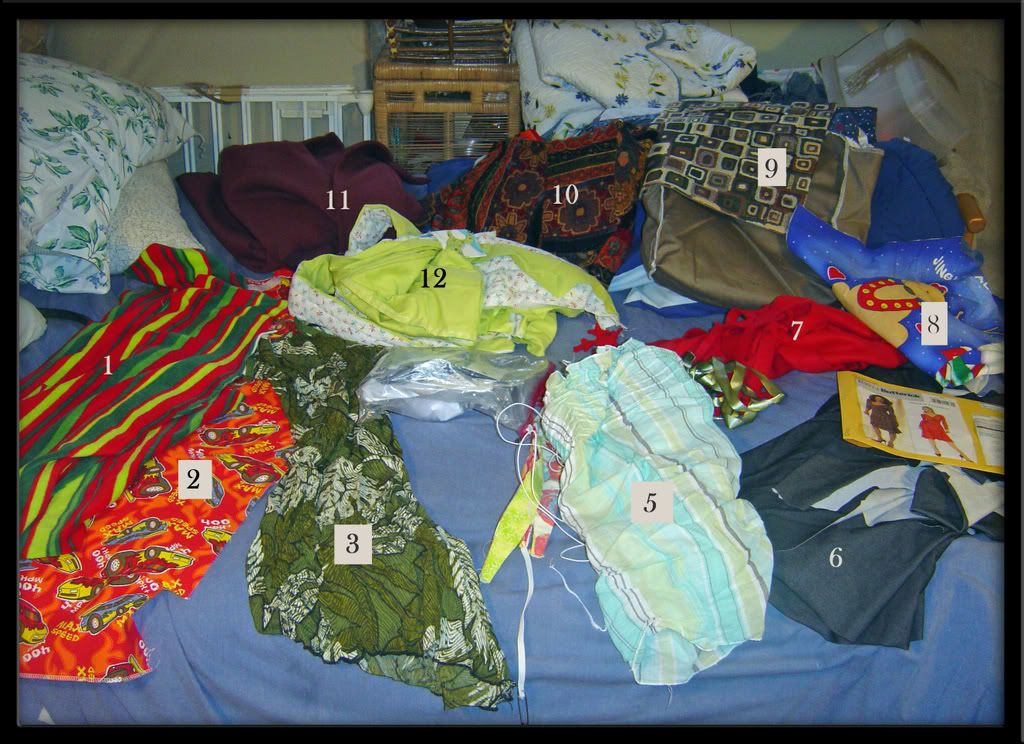 So I searched out some UFOs, these are the ones I could easily find, I fear the ones that are buried!
1. fleece one-piece romper for ds, cut last year so there is no way it will fit
2. overalls for ds cut in the fall, may end up as shorts
3. hawaiian loose cover-up made last summer, needs the arm holes to be dropped and the neck band added
4. Smoon head bands, just need the elastic to be attached to one side
5. elastic shirred top, elastic needs to be finished and seam sewn
6. Maggie London knit dress cut last summer
7. one of those cut up fleece scarves from a kit- way too delicate to actually wear, want to add ribbon to the stems of the flowers so they don't pull off
8. Christmas apron from 5-6 years ago (actually longer I just realized, they were from before I met dh), cut and ready to be sewn
9. messenger style diaper bag half sewn for Italy trip in 2006, needs lining, straps, pockets, closure
10. Hobo bag sewn as muslin for niece's christmas bags, straps need to be redone completely
11. Winter coat, lining needs to be finished, hems and buttons completed
12. Ergo style baby carrier, half sewn
So those are the projects for Jan- eeck, Jan is half over!
Oh and on my way out of my sewing room I saw the linen cropped jacket that just needs to be slip-stitched. And the list grows!